Power Washing Services We Offer:
Mobile Power Washing
Power Washing Driveways
Power Washing Sidewalks
Power Washing Vinyl Siding
Power Washing Metal Siding
Soft wash House Washing
Building Exterior Washing
Brick and Cement Building Washing
Power Washing Removes Years Of Dirt, Grime and Algae Growth
If you are thinking about having the exterior of your home or business power washed to remove dirt, algae, rust stains or mildew then you've come to the right place! In the hands a of a professional a power washing unit can do wonders for most properties. From driveways to siding and sidewalks and more a good power washing will make short work of even the most stubborn and neglected surfaces.
Why is power washing my home or business necessary?
Constantly exposed to mother natures harsh elements the exterior of your home is always vulnerable and under attack. Mold and mildew spores, algae, pollen and other pollutants blow through the air and attach to the siding and other surfaces of your home or business.
Over time dirt and grime build up, the mold, mildew and algae start to fester and grow. Usually on the north side and the fascia and soffits or areas that stay dewey or wetter longer and see little or no sunshine. Patios, sidewalks, driveways and decks literally become slippery when wet and can be dangerous and even destructive on the building materials underneath.
Quickly this starts to degrade not only the appearance but the integrity and value of one of your biggest investments. Left unchecked mold and mildew can grow deep into your paint and siding and eventually can start to creep inside your home. And that's were the real trouble begins.
The good news is having your house or business power washed by a professional as periodic maintenence is economical, safe and efficient.
Soft low pressure washing and pressure washing both have advantages and differences, while pressure washing is normally reserved for tougher tasks where high pressure is required such as concrete driveways and sidewalks and in certain instances like paint prep and decks, soft house washing is always the safest and best bet for cleaning your homes siding.
How We Power Wash Homes and Buildings
Scrubbing Siding
Eco Friendly Cleaners
Safe For Plants, Pets and People
Soft Wash Rinsing
Call today to speak directly with the owner who will be more than happy to set up a free no obligation quote.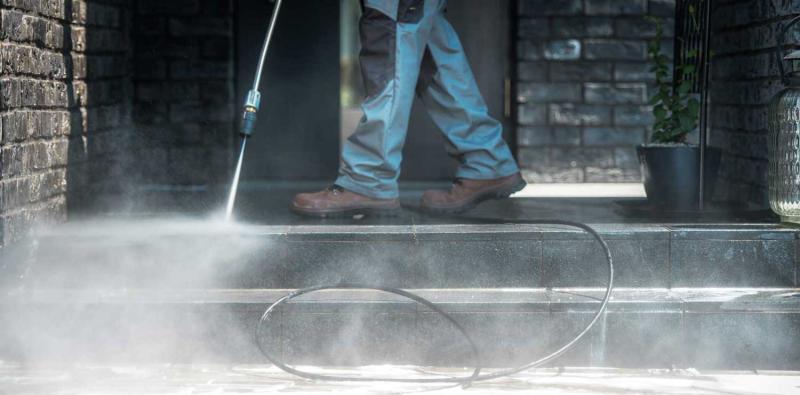 Our Michigan Service Areas